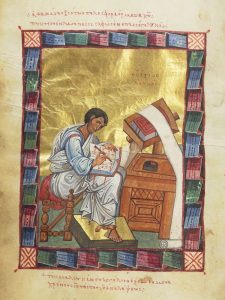 Welcome to Writing From the Margins, the blog of the DBBE project!
This blog sheds light on various interesting dimensions of the Byzantine book epigrams contained in our database. It is a space to discuss topics that go beyond the limits of a database record. You will find here the stories behind the transmission of some remarkable book epigrams, as well as preliminary results of in-progress research, larger-scale overviews of metrical paratexts on various subjects, and discoveries of exciting new material transmitted in beautiful manuscripts.
Whether you are acquainted with Byzantine paratexts or you have coincidently stumbled upon this blog, you will find some ideas (and pictures!) that will spark your interest.

This work is licensed under a Creative Commons Attribution 4.0 International License.