Today, on International Nurses Day, we wanted to give an extra, virtual applause for all healthcare heroes around the globe – Byzantine style! 👏
This beautiful portrait of Hippocrates, the 'Father of Medicine', can be found in the medical manuscript Par. gr. 2144 (14th c.), surrounded by a poem fifty (!) verses long. The reader is addressed by the ancient physician himself, who recounts how medicine has stolen his heart in these first five verses.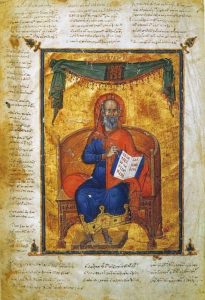 ✒️ Ἰατρικῆς μὲν τῆς κρατίστης ἐν τέχναις
δεινός τις εἷλε τὴν ἐμὴν ψυχὴν ἔρως
ἐκ παιδὸς εὐθὺς ἐντακεὶς εὐμηχάνως
καὶ προςπαθῶς ἔχουσαν ἕλκων τὴν φύσιν
πρὸς συμπαθῆ παίδευσιν ὁλκαῖς ἐμφύτοις.
📖 Zur Heilkunst als der besten unter den Künsten
erfasste eine gewaltige Liebe meine Seele,
die gleich von Kindheit an passend in mir eingeschmolzen war,
und zog meine leidenschaftliche Natur
zu einer Bildung, die den angeborenen Neigungen angemessen war.
Healing was a calling for Hippocrates, just as it is for modern-day doctors, nurses and other health workers, whose everyday commitment is invaluable during this corona pandemic. You are doing an incredible job, thank you all! ❤️
Interested in reading the whole poem or other medicine-related epigrams? Check out DBBE!
🌐 https://www.dbbe.ugent.be/types/7126
📸 A. Bianchini, 1992, Byzance: l'art byzantin dans les collections publiques françaises. Paris: 457