Happy International Women's Day to all the incredible women out there! 🦸‍♀️ And a special tribute to the amazing ladies working at DBBE and to the many women our database features as poets, scribes, patrons and subjects of various epigrams. 👏
The Alexandrian canon of nine lyric poets includes only one woman, the famous Sappho. In the Roman period, however, Antipater of Thessalonica wrote an epigram in honour of nine outstanding Greek female poets (Anthologia Palatina IX.26). Of some of these we have a considerable literary corpus extant, others remain more mysterious. They lived in different periods, came from different places and wrote different literary genres, but they were all considered to be one of the nine best female poets, the mortal pendants of the celestial Muses.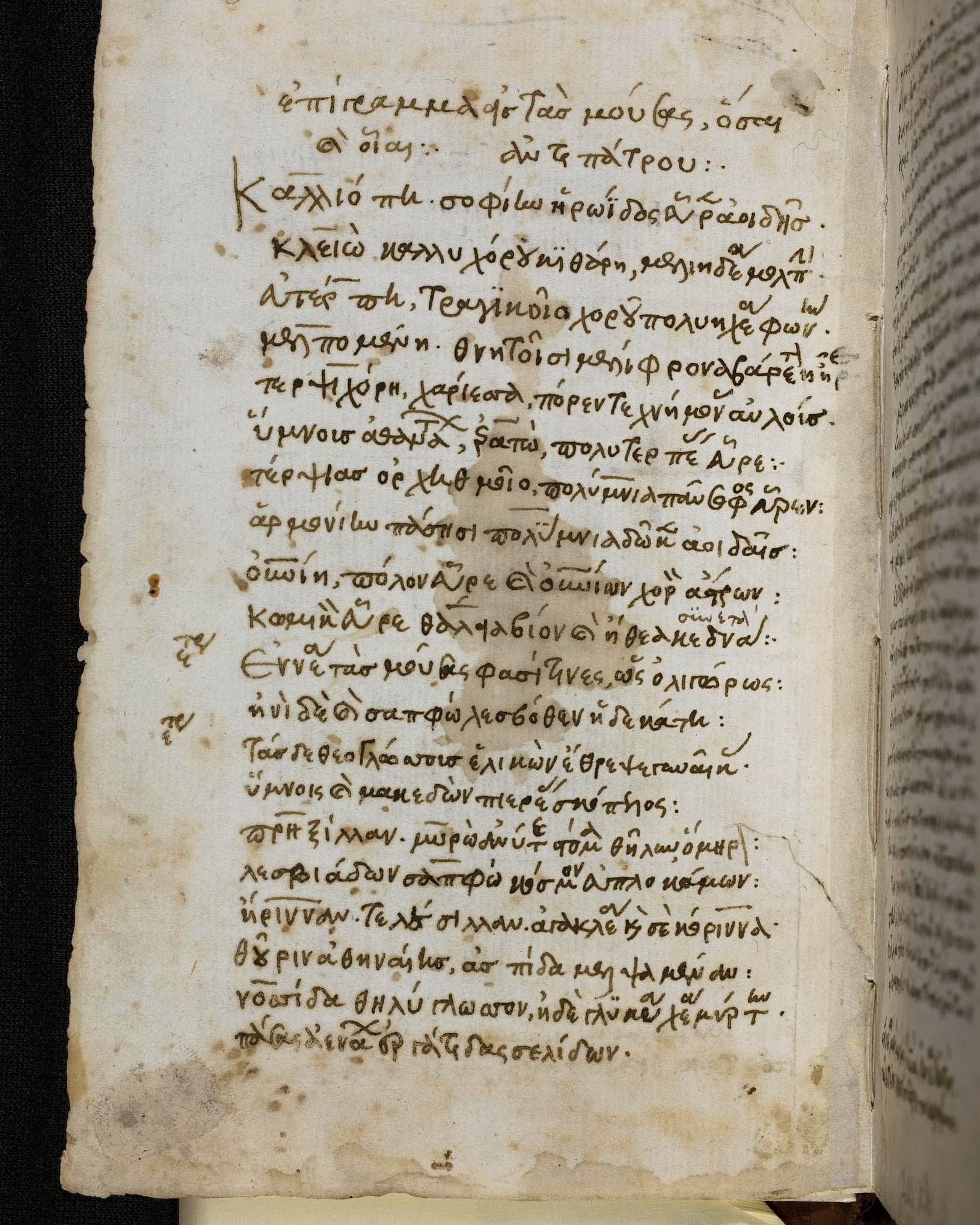 ✒️ Τάσδε θεογλώσσους Ἑλικὼν ἔθρεψε γυναῖκας
ὕμνοις καὶ Μακεδὼν Πιερίας σκόπελος,
Πρήξιλλαν, Μοιρώ, Ἀνύτης στόμα, θῆλυν Ὅμηρον,
Λεσβιάδων Σαπφὼ κόσμον ἐυπλοκάμων,
Ἤρινναν, Τελέσιλλαν ἀγακλέα καὶ σέ, Κόριννα,
θοῦριν Ἀθηναίης ἀσπίδα μελψαμέναν,
Νοσσίδα θηλύγλωσσον ἰδὲ γλυκυαχέα Μύρτιν,
πάσας ἀενάων ἐργάτιδας σελίδων.
Ἐννέα μὲν Μούσας μέγας Οὐρανός, ἐννέα δ' αὐτὰς
Γαῖα τέκεν θνατοῖς ἄφθιτον εὐφροσύναν.
📖 These are the divine-voiced women that Helicon fed with song, Helicon and Macedonian Pieria's rock: Praxilla; Moero; Anyte, the female Homer; Sappho, glory of the Lesbian women with lovely tresses; Erinna; renowned Telesilla; and thou, Corinna, who didst sing the martial shield of Athena; Nossis, the tender-voiced, and dulcet-toned Myrtis—all crafts women of eternal pages. Great Heaven gave birth to nine Muses, and Earth to these nine, the deathless delight of mortals.
🌐 https://www.dbbe.ugent.be/types/7112
📸 https://digi.ub.uni-heidelberg.de/diglit/bav_pal_gr_215/0008
The epigram is transmitted as a book epigram in the Vatican manuscript Pal. gr. 215 (15th c.). On ff. 1v-2r, Ioannes Symeonakes wrote down these verses together with two epigrams on the Muses as an introduction to Herodotus' Histories.